It comes a time in a man's life when he gets tired of dealing with his ratchet ass baby mama. Maybe he is tired of her attitude, maybe he's tired of the way she continues to live the dead beat life, regardless of his efforts to help her. This is a normal thing, all men don't leave for nothing, only some... here's where it gets sticky, some baby mama's are jealous, I'm sure you read the
The Jealous Type
post. It takes the father to make a better decision on who he plans to date or if he even decides to date at all.
What if this man decides to date a woman of another race? Let's say a white woman. Now I didn't say he made a change to white women all together, but he decides to give it a shot. When you're dealing with a ratchet baby mama, odds are she is going to hate HARD... The first thing out that chick mouth is "He left me for some white bitch." And what makes it even worse is that she is going to hate on that white woman ridiculously. Check the video out below:
Now regardless of what most of you chicks that dislike this video would say, she does speak the truth. In 50-100 years not many people will be just black or white or whatever. Everyone will be mixed with something. I saw this on
Tommy Sotomayor's YouTube
and had to post it. But the most important question I have is Why is all the hate focused toward the white woman only? Why not the Spanish, Chinese or Indian woman? When you walk through the mall, you usually see the single black women turning their nose up at the black man with the white woman and not the black man with any other race. What is that???
I had this dumb broad tell me that she don't have a problem with black men and dominican women because their basically the same race, I looked at her with the "You dumb bitch face." If you are going to hate on one interracial relationship, you have to hate on them all, but you shouldn't do this anyway, it just shows how stupid and shallow you are. It shows that you couldn't keep your man and that's why he's where he is now.
Deal with it dummy, you dug your own hole. I won't call it racism today, I'll call it Bitchism... Step your game up and be a better person, maybe your black man wouldn't have left your ratchet ass.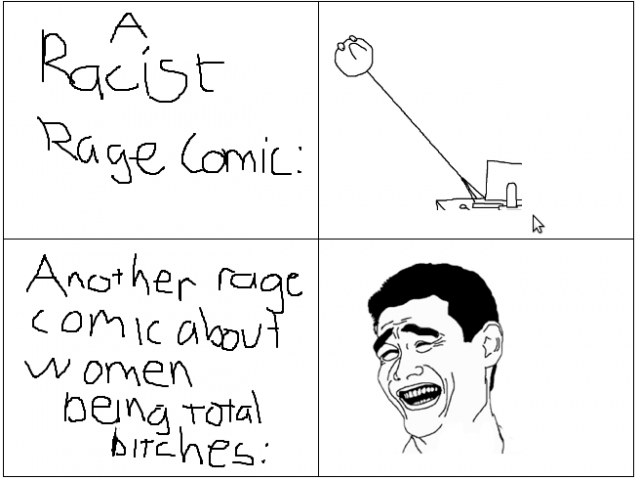 Comments, Questions???